« Back
Le Diner En Blanc- Why Should I Pay To Feed Myself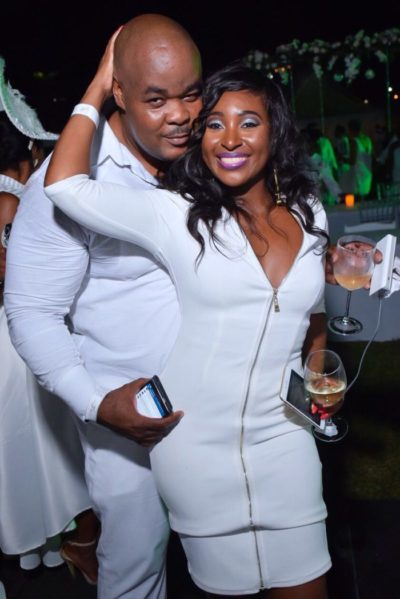 Last year, when Garfield aka "the great adventurer" aka "the explorer" aka "the trier of all things new" excitedly suggested that we attend the first staging of Le Diner en Blanc – Dinner in White – I rolled my eyes and responded, "Hell no?!" I mean, "Why would I want to go to one of those pretentious Page 2 uppity events?" I asked. That was the end of that conversation. We stayed home.
This year, for the second staging of the event, he didn't even bother to ask.
"Lecia, we are going to Diner en Blanc." It was announcement for which he had even donned the French accent.
Some statements are best responded to with an eye roll, and boy did I roll my eyes.
Ignoring me, Garfield continued, "No worry yourself. Just get a white dress."
Hmph!

Like so many, I had already written off an event I knew nothing about. But since I was now being ordered asked to go I decided to go do some research (and by research I mean Google).

Basically, I found out that back in 1988, one Francois Pasquier wanted to host a few friends for a fancy dinner. I imagine that he didn't have much space at home and didn't want to pay for a fancy restaurant. So, he invited his friends to join him at Bois de Boulogne (a park in Paris) for dinner. They were all told to dress nicely, wear white so they could find each other and bring their own food and drink. It was just like a picnic, except that instead of spreading blankets on the grass and eating sandwiches, they brought fancy food and dined in fine style using pop-up tables and chairs and fine chinaware. His friends enjoyed themselves so much, it became an instant hit.

You have to admit that's a pretty good story, and so even the skeptic in me was curious to see how this event would unfold in Jamaica.
And so the day arrived, and I got all glammed up in my relatively inexpensive, no name, white dress. Meanwhile, Mr. Hype Extraordinaire (yet another name for my husband) was decked out in Mark Anthony custom design. Even I did a double take when I saw him dressed and sort of wanted to forget about the whole picnic and stay at home, (if you know what I mean, *wink*).
Garfield and I as we arrived
But let's get back to the event.
I must say, I feel a lot like the uncool kid who was invited to join the cool kids (think Mean Girls) and now feel really, really, really afraid to admit that I had fun. Yeah, I know, call me Judas, because I sold out my clique of Diner-en-Blanc-haters for 30 pieces of silver, well more like 3 glasses of Moet. What can I say? It was E.P.I.C!!! It was easily the most fun I've had all year, and I am already planning, yes planning, for next year.
But unlike all the other bloggers, I can't tell you diddly-squat about how to plan for the event (remember all I had to do was get a white dress), so I thought I do the next best thing. I'd ask the event organisers a few questions so we can all learn more about the event.
Thankfully, Leisha Wong, director of the Chow Society, (organizers of the event) was more than happy to answer the questions of new convert and lover of this fantastic pop-up dinner party.
So here goes!

Lecia: Jamaicans generally aren't big on picnics. Don't get me wrong, we love to dress up and dine in fancy restaurants, (at least I do), but we aren't so keen on making and bringing our own food to an outdoors event, so what inspired or motivated you to bring this event to Jamaica and did you anticipate that it would be such a big hit?

Leisha: You're right, picnicking per say, isn't really popular in Jamaica. But when you think about what it represents, it is really just coming together with friends and family, bringing and sharing food, usually in an outdoor space. Jamaicans do this all the time, when it comes to lyming and barbequing... we kind of just took it up a notch. With that in mind, we did think it was an event that Jamaicans would embrace, but in truth, not to the amazing extend that they did! We wanted to bring something to the entertainment scene that was a little different, not just the usual all-inclusive party, but an event where the guests were inextricably linked to its success. And this is what also makes it so memorable. Each guest contributes to the overall vibe either through bringing table decor, amazing spreads of food, or just a great joie de vivre attitude.
Fabulous décor, all done by the guests.

Lecia: How do you respond to persons who say, "Why on earth would I get all dressed to up to go set up my own table, bring my own plates and silverware and feed myself"?

Leisha: Here's the thing: Diner en Blanc is not for everyone. Just like Passa Passa isn't for everyone; or Dub Club; or Carnival. Diner en Blanc is for those who are looking for something a little different, a magical night with elements of the unexpected. Guests have been celebrating the movement for almost 30 years, and it is an evening built on foundations of heritage and tradition (of the Diner en Blanc movement), elegance, good food and wine, friendship and celebration. The element of "effort" also delivers a sense of accomplishment, and community. You celebrate with friends and strangers, making new friends, as everyone is bought together and united by this unforgettable experience. It's really about being open to something new, coming into it with no preconceptions, and just being ready to have a good time.
Lecia: How do you go about choosing the location and why was Usain Bolt Track chosen this year?

Leisha: First and foremost the location is a space that encourages and allows you to celebrate your city. Last year we chose Emancipation Park, which we felt was the perfect location to celebrate our city, and to join friends, family, and strangers to share food and wine, and dance the night away. This year, as Jamaica gets ready again to celebrate our athletes in Rio, we thought it fitting to host the night of magic in a space where "greatness is honed", and where the amazing talents of the Racers athletes, led by Usain Bolt, are strengthened. In addition, the hills around the venue were the perfect breathtaking backdrop that also speaks to the island's diverse landscape.

Lecia: What's the significance of keeping the location a secret and how difficult is it to actually keep the location a secret until the very last minute?

Leisha: Traditionally, the Diner en Blanc experience was based on "occupying" a public space. It was kept a secret so that the authorities would not be able to stop the guests. And while this is no longer a part of the experience, it remains a tradition that adds to the overall magic of the night. Intrigue and mystery are also founding values of the event that adds to the essence of magic. For our planning process we only tell those people who really need to know. Not even our table or group leaders knew where they were going. They knew the layout of the venue, but not the venue itself.

Lecia: While we waited for our shuttles, I was sure there was going to be a down pouring of rain, seriously, was there a plan B if rain fell?

Leisha: Again, traditionally, Diner en Blanc is a rain or shine event. We have seen other cities dancing in the rain, as the weather didn't quite cooperate for them! We are not allowed to put up tents over our event, and so we watched the weather very closely, and had a rain date on the back burner if it came to us having to postpone the event. We know our crowd, and know that Jamaicans do not like rain, so had it looked like it was going to rain very heavily, we would have postponed.

Lecia: After the event I was browsing through my Facebook feed and surprisingly my timeline was filled with critics bashing the event as either "very uptown" "UPT" or akin to "privileged secret society". I personally enjoyed myself immensely. Maybe it was because of the abundance of food and alcohol, but surprisingly, I found this "picnic" to be a much, MUCH, livelier event than many parties I have attended. I mean, the dance floor was on fire (cringing as I recall the terribly embarrassing video of me which Garfield has posted). So, how do you respond to those who say it's a very "uppity posh event"?

Leisha: You are right...people see the spreads of food and alcohol but don't realize that its many pot lucks put together by groups of friends, and intended to be shared amongst large groups of people. The guests also bring their table decor which oftentimes just comes from home. You actually just pay a participation fee for TWO people and then guests can decide to spend as much, or as little, as they want on their food and wine, and still partake in the entertainment and surprises of the evening. When you take all that together the overall cost of Diner en Blanc is lower than a number of premium all-inclusive parties, and yet, none of this same controversy is levied at them.
Blame my betrayal on Moet

Lecia: One of the amazing things about the event was just the wide cross-section of persons who were in attendance and the varying age groups (from the very mature to the young and hip were all enjoying themselves). What is it about this event that has managed to so successfully capture the attention of and appeal to both young and old?

Leisha: Yes, that is definitely one of the amazing things about this event. The event draws people together who share common values, and these values cross age groups. Friendship, community, great food and wine, elegance, mystery, commitment, joie de vivre.
So, there you have it. If after reading my story and Leisha's answers you are still convinced that Diner en Blanc is just a "stuck up, pretentious event", I have one word for you: meh. (Wait, that's most effective as a sound, but you get my point).
Login
Please log to your Member account to write on the wall:
Le Dîner en Blanc
Kingston